Adobe Panel Debugging
Please make sure that you are using the latest version of the panel. It should be automatically updated from AdobeExchange.com if you have installed from there, or following our manual instructions but we have noticed that it's not always the case.
Version
To find the version it is easiest to use Adobe Premiere Pro as that has support for the small menu where the panel shows its version number: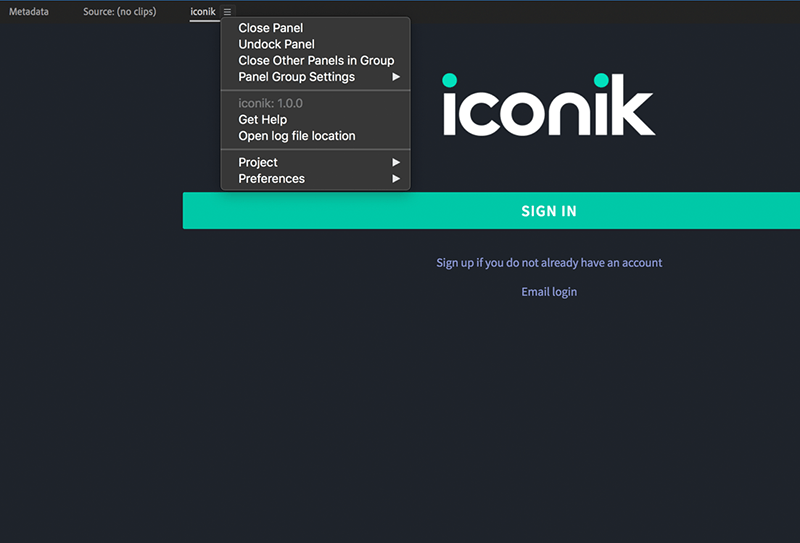 Logs
The panel can create internal debug messages to give an overview of what is going on.
Understanding the logs
The logs are meant for internal debugging by the iconik team and will show warnings, errors that can be safely ignored. We suggest that the use of logs is for passing them on to iconik support when needed.
Configuring logging
The logging is configured globally for all Adobe CC applications.
Logging levels can be modified as per the following levels:
0 - Off (No logs are generated)
1 - Error (the default logging value)
2 - Warn
3 - Info
4 - Debug
5 - Trace
6 - All
The LogLevel key can be updated at the following location (The application should be restarted for the log level changes to take effect):
Win: regedit > HKEY_CURRENT_USER/Software/Adobe/CSXS.9
Mac: /Users/<USERNAME>/Library/Preferences/com.adobe.CSXS.9.plist
For example of Mac, in the terminal do:
defaults write com.adobe.CSXS.9 LogLevel 6
On Microsoft Windows you will need to use the Regedit program.
For older versions of Adobe software such as Adobe Premiere Pro CC 2018 you should change CSXS.9 to CSXS.8
Where to find logs
iconik panel creates log files for some of it's own operation, they can be found at:
Mac: /Users/<USERNAME>/Library/Logs/iconik/
Win: %APPDATA%\Roaming\iconik\
The Adobe application log location depends on the operating system:
Mac: /Users/<USERNAME>/Library/Logs/CSXS
Win: C:\Users\<USERNAME>\AppData\Local\Temp
The log will be named in a certain format with different version numbers depending on the logging level.
CEPHtmlEngine<versionNumber>-<HostID>-<HostVersion>-<ExtensionID>.log
And example of this is:
CEPHtmlEngine8-PPRO-12.1.1-com.cantemo.iconik.extension.log
Note: On MacOS you can use the Console.app application for viewing log files.
Learn More