Job Management
Jobs can be managed if they haven't finished. For example waiting jobs cancelled, failed jobs retried and priority of transcode jobs changed.

Viewing jobs
Click on ADMIN in the top navigation.
Choose Jobs from the left navigation bar by pressing the icon.
There are two views of the jobs:
Click on the links above to learn more.
Viewing a job
You can view more information on a job by clicking on the title of the job in either the dashboard or the history view.
Click on the title.
In the dashboard this will show the job information in a modal window, in the history will go to a page that shows the complete job information.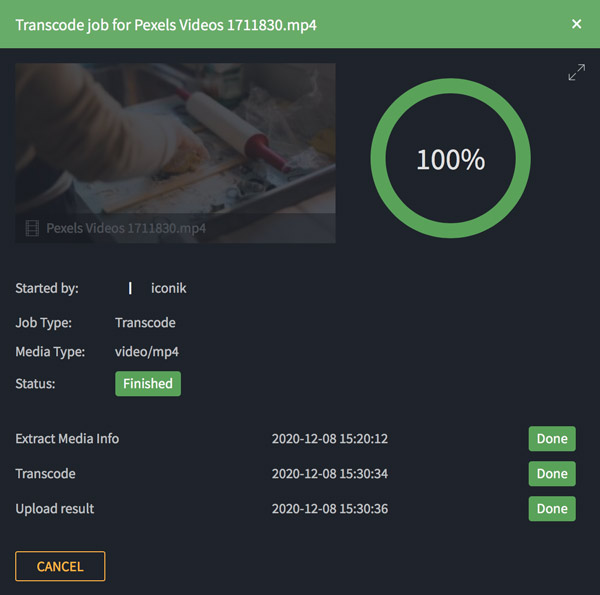 The job view will show the steps that the job went through and the status of those stages, and a timestamp of when that information was last updated.
Aborting a job
To be able to abort a job, make sure it has not yet finished.
Right click on the job you wish to abort.
Click on the Abort.
Restarting a job
You may wish to restart a job if there was a problem causing the
To be able to restart a job, make sure it has finished or failed.
Right click on the job you wish to restart.
Click on the Restart.
Job prioritization
Transcode and transfer jobs can have their prioritization changed before they have started.
Find the transcode job that to re-prioritize
On the job row will be the priority.
Choose the priority - 9 being the highest, 1 the lowest.
As the queue is processed, and any existing in-progress transcodes completed the prioritization will take place.
Viewing Associated Asset
You can view the associated Asset for a job.
Right click on the job you wish to view.
Click on the View asset.
Learn more