Asset Formats
Assets can have one or more Formats associated to them. These formats are usually how you think about managing files with an asset. The formats are displayed in a table with one row per format.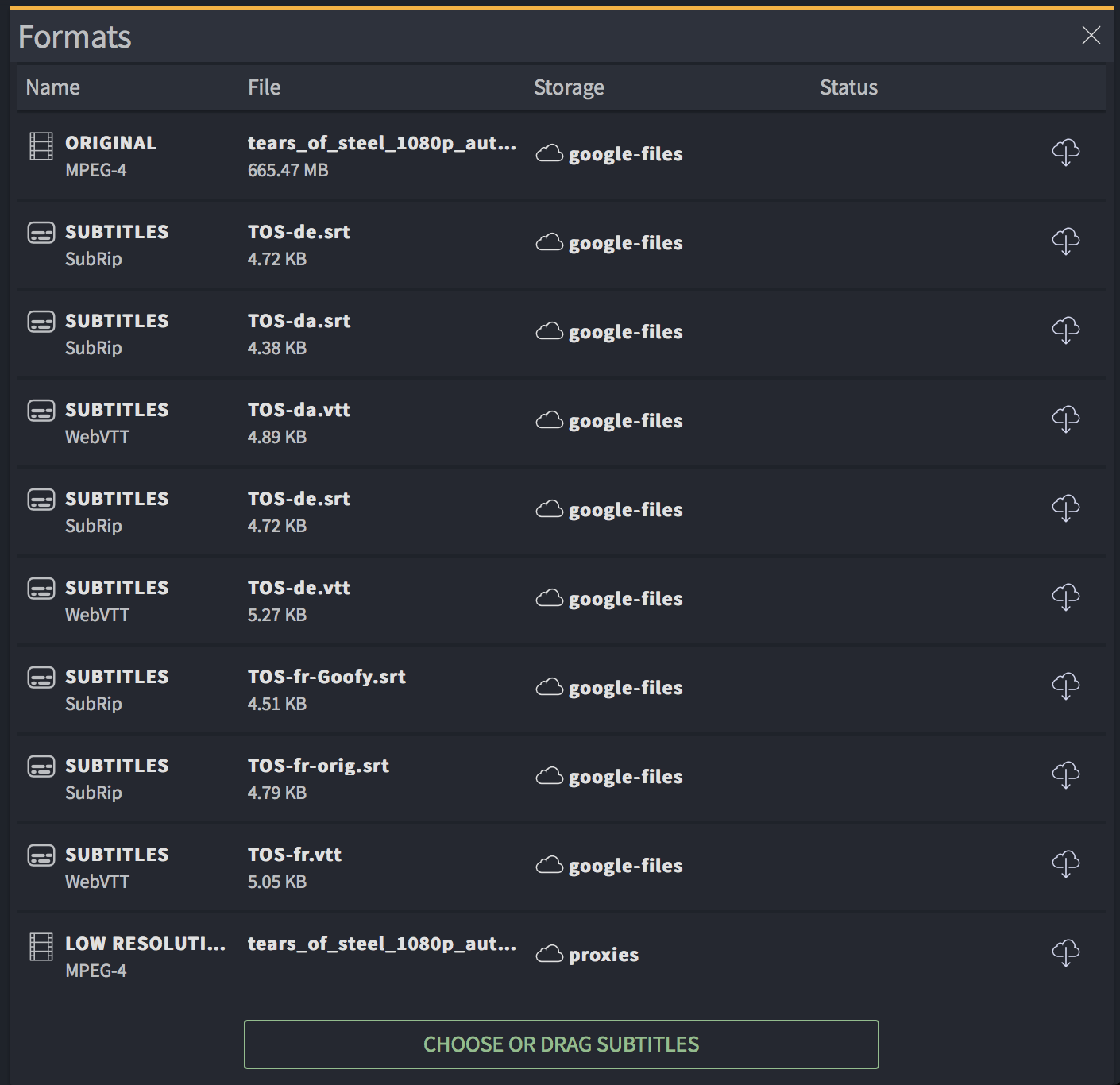 The Format Panel under assets shows all the formats that are associated with this asset.
Format Table
In the formats panel the are the following columns of information:
Name
This shows the given name for the format when the format was created. Underneath it shows the type of the file that is associated to the format.
File
This is the filename for the main file for the format. If the name is long hover your mouse over the name to reveal a tooltip with the full name. Underneath it shows the filesize.
*This needs the role can_read_files to get the full information*
Storage
This shows which storage that the format is currently on. If the format is on multiple storages it will be listed. Next to the storage name is an icon to show whether this is a cloud storage or not.
*This needs the role can_read_storages to be available*
Status
This shows the archive status of the format, such as whether it's offline or archived.
Download link
The final column will show a download icon if the file is available for download for the format. If the file is not in the cloud the icon will not show.
Click on the Download icon next to the format.
The file will be Downloaded through your web-browser.
Format Operations
By right clicking on the table over a row, you can perform operations on the format. A menu will open by right clicking.
Please note that the contents of the menu will change depending on whether you have correct role to perform these operations, the storage the file is on and the type of the format
Format Types
Original Format
This is a reference to the Original Format that was derived from the Original File that was uploaded.
Low Resolution Format
When we process the file we create a proxy "low resolution" of the asset. Depending on the Original File that was uploaded it might have the same actual resolution as the original, but it's a version of the asset that iconik can playback within a web-browser.
Subtitle Format
The subtitle is a special format for subtitles/captions. For uploading captions please see the article Uploading Captions. There can be multiple captions formats, one per language.
PPRO_PROXY
This is a Proxy file used by Adobe Premiere Proxy workflow. This is either generated by an external system or is a reference to the proxy file created on import by Premiere.
Learn More